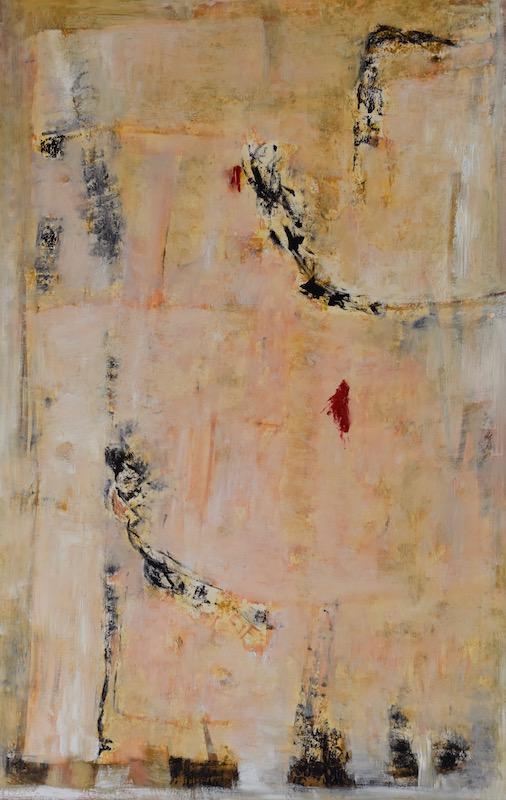 STUDY ELEMENTS IN SUSPENSION #6 / ÉTUDE ELEMENTS EN SUSPENSION n°6
oil on paper / huile sur papier 2018
120 cm x 80 cm
Collection privée, France
Mon expérience artistique est une expérience poétique dont le parcours se dessine à travers différentes
séries. Celles-ci sont en quelque sorte le fruit d'une aventure en solitaire, d'une grande escapade entre le
tangible et l'intangible.
Un processus qui s'apparente au jazz, une structure souple et solide à la fois, ouverte à l'inconnu.
Espaces et lieux où l'esprit donne forme à la matière nous menant vers de nouveaux territoires .

Je peins comme d'autres boivent…pour oublier.
De cette volonté d'oubli surgit une parcelle à contre poids, un petit promontoire d'où plonger au fil des
errances de l'esprit...
La nature est moins l'objet de ma peinture que les espaces auxquels elle renvoie.

Artist's Statement
My artistic experience is poetic, its path is drawn through different series. These are in some way the fruit of a
solitary adventure, a great escapade between the tangible and the intangible.

A process close to jazz, a fluid yet solid structure opened to the unknown.
Spaces and places where spirit animates matter, leading to new territories.
I paint like others drink...to forget.
From the will to forget springs a patch, a counterpoint, a little promontory where to dive from, following
wanderings of the mind...
Nature is less the object of my paintings than the spaces it reveals.
"Sometimes my mind stares at the Emptiness breathed out of ordinary objects
The same objects that will become the point of fixation where all is Suspended...."
"Parfois mon esprit se fixe sur le Vide émanant d'objets ordinaires, ces mêmes objets qui deviendront le point fixe où tout est Suspendu"
(c) Agnes Novak 2018



All images and statements under copyright law (c) Agnès Novak 2018 prohibited from use without artist's consent.
Images et écrits protégés par les droits d'auteur (c) Agnès Novak 2018 utilisation interdite sans permission de l'auteur.